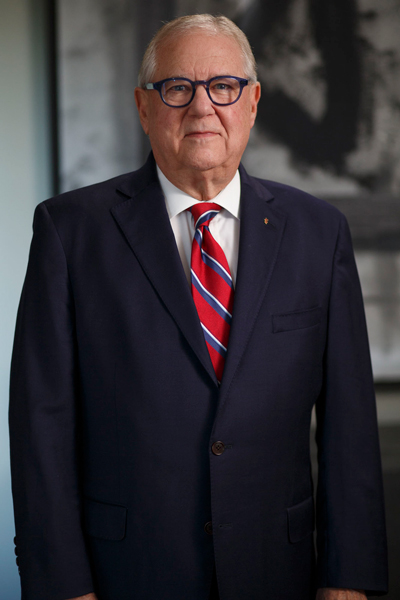 David N. Appleby
Attorney
David N. Appleby was born in Springfield, Missouri. He graduated from Ozark, Missouri High School, Missouri State University (BS Economics), and the University of Missouri, School of Law (JD). In addition to serving the Western District of Missouri, he is licensed to practice before all Missouri Courts and the U.S. Supreme Court. David has practiced law since 1976, and has served as the Prosecuting Attorney for Christian County, Missouri and as a Municipal Judge. Additionally, David has been active in numerous law related activities, including serving as the President of the Christian County Bar Association and as Chairman of the Regional Missouri Council on Criminal Justice.
Now a retired Colonel, David has extensive Active and Reserve service in the U.S. Army. He is a Vietnam veteran and has received numerous awards and decorations, including the Legion of Merit, the Bronze Star and the Combat Infantryman's Badge.
Additionally, David completed foreign service in Panama, South Korea, Germany and Belgium, serving in the 82nd Airborne Division, 101st Airborne Division and numerous Army and joint Special Forces (Green Beret) units.
David is also active in a number of civic organizations and has served as a member of the Board of Aldermen for Fremont Hills, Missouri. Recently, David served as President General (national president) of the Sons of the American Revolution (SAR). In addition to the SAR, David is a member of several charitable, patriotic, hereditary, fraternal and veterans organizations, including the Sovereign Military Order of the Temple of Jerusalem (Knights Templar) where he also served as the national president; Venerable Order of the Hospital of St. John of Jerusalem; Ancient Free & Accepted Masons (Blue Lodge, all York Rite bodies, Scottish Rite 32 degree and Shrine), Military Order of the Loyal Legion, Veterans of Foreign Wars, Disabled American Veterans, American Legion and Military Order of the Purple Heart.

For David's biography in bulleted list form, please view the content below.
Your Title Goes Here
Your content goes here. Edit or remove this text inline or in the module Content settings. You can also style every aspect of this content in the module Design settings and even apply custom CSS to this text in the module Advanced settings.
Education
SOUTHWEST MISSOURI STATE UNIVERSITY

(now Missouri State University): BS in Economics (1970)
U.S. ARMY WAR COLLEGE (1995)
UNIVERSITY OF MISSOURI, COLUMBIA: School of Law, JD (1975)
Professional
Attorney at Law: Admitted to practice before the U.S. Supreme Court; U.S. District Court (Western District of Missouri); all Missouri Courts.
Private law practice: for more than thirty six years.
Municipal Judge: City of Ozark, Missouri
Former Prosecuting Attorney: Christian County, Missouri
Former City Attorney: City of Ozark, Missouri
Past President: Christian County Bar Association; Past Secretary, 38th Judicial Circuit Bar Association; member Springfield Metropolitan Bar Association and Missouri Bar Association.
Former Business Law Instructor: School of Business, Southwest Missouri State University (now Missouri State University).
Insurance Producer: Licensed (for more than 28 years) for Accident and Health, General Casualty, Life, Property, and Title.
Military
Colonel (Retired), Army of the United States
Commissioned: ROTC, 1970 (Distinguished Military Graduate), 3 years active duty, 24 years active reserve duty.
Graduate: Infantry Officer Basic and Advanced Courses, Civil Affairs Officer Advanced Course, Special Forces Officer Qualification Course, Foreign Area Officer Course, Command & General Staff College, Department of the Army Inspector General School and U.S. Army War College.
Significant Command and Staff Assignments: Infantry Rifle Platoon Leader, Infantry Rifle Company Commander, Special Forces "A Team" Commander, Special Forces Battalion Operations Officer (S-3), Special Forces Battalion Commander, Theater Special Operations Command Plans Officer (J-5), Division Operations Officer (G-3), Brigade Commander, Division Chief of Staff.
Foreign Service: Vietnam, Panama, South Korea, Germany and Belgium.
Awards and Decorations: Legion of Merit, Bronze Star, Meritorious Service Medal, Air Medal, Army Commendation Medal, Joint Service Achievement Medal, Vietnam Service Medal, National Defense Service Medal, Army Service Ribbon, Vietnam Campaign Ribbon, Korean Defense Service Medal, Army Reserve Commendation Medal, Army Reserve Component Achievement Medal, Reserve Component Overseas Training Ribbon, Military Outstanding Volunteer Service Medal, Combat Infantryman's Badge, Airborne Badge, Vietnamese Airborne Badge, Belgium Parachutists Badge, Ranger Tab, Special Forces Tab
Community Service / Awards
Missourian Award: recipient, 2005, for outstanding contributions to the community, state and nation.
Minuteman Award: highest award for service to the National Society Sons of the American Revolution. Also recipient of NSSAR Patriot Medal, Liberty Medal, Gold Good Citizenship and State Distinguished Service Award, inter alia.
Distinguished Service Award: highest award for service to the Sovereign Military Order of the Temple of Jerusalem (SMOTJ-Knights Templar). Also, Distinguished Service Award for service to OSMTH (International Association of Knights Templar), Legion of Merit, inter alia.
Past Alderman: City of Fremont Hills, MO
Past Chairman: Regional Council on Criminal Justice
Past Member: Regional Advisory Council on Alcohol and Drug Abuse
Past Member: Southwest Missouri State University Alumni Board
Past President: Ozark Athletic Booster Club
Board of Directors (NOT FOR PROFIT): Chairman The SAR Foundation, Louisville, KY; Chairman/President, The General Raymond G. Davis Templar Foundation, Gaithersburg, MD; Human Potential Counseling Foundation, Springfield, MO; and, Physicians for Youth, Inc., Nixa, MO.
Advisory Boards (NOT FOR PROFIT): Chairman, Missouri State National Defense Committee, Washington DC; and, Admiral James J. Carey Foundation, Washington, DC.
Hereditary, Patriotic, Veterans, and Fraternal Organizations
Most Venerable Order of the Hospital of St. John of Jerusalem: Member
Sovereign Military Order of the Temple of Jerusalem, Knights Templar: GrandPrior XIV (National President), Grand Priory of the United States; Prior II, Priory of Nieux Amsterdam; Prior I, Priory of St. Louis the Crusader; Commander, Commandry of Antioch; Grand Referendry, OSMTH (International Association of Knights Templar).
Ancient Free and Accepted Masons: Master Mason; York Rite all bodies; Scottish Rite, 32 degree; Shrine.
David&Ray-02Sons of the American Revolution: Past President General, (National President) National Society; Past President and National Trustee, Missouri Society; and Past President, Ozark MountainChapter.
Military Order of Foreign Wars: Past Commander, Missouri Commandery.
Military Order of the Loyal Legion of the United States: Treasurer/Judge Advocate, Missouri Commandery.
Military Order of the Purple Heart: Associate Life Member
Special Forces Association: Member
The Army & Navy Union of the United States: Life Member (Garrison #65, Arlington, VA)
VFW: Life Member. (Sam Appleby, Jr. Post # 7628)
Disabled American Veterans: Life Member
American Legion Life: Member. (Kirby Wilcox Post #676)
Military Order of the Carabao: Member
Sigma Pi Social Fraternity: Past Sage (President) Alpha Rho Chapter (Southwest Missouri State University)